Most modern automobiles are equipped with an automatic transmission. Some surveys indicate manual transmissions represent only 1% of new vehicles! Unlike a manual transmission, the automatic operates without significant driver input therefore it is easy to forget it is even there. And while most drivers know that they should be changing engine oil every few thousand miles, the longer service schedule of an automatic transmission makes it very easy to overlook that the automatic transmission requires regular service. Yet ignoring this can lead to premature failure and a very costly repair bill. Sadly, this is extremely common, and rates of transmission failure have increased as durability is less a design focus in recent transmission varieties relative to achieving fuel-economy goals.
What does transmission fluid do?
It is hard to overstate the importance of transmission fluid to how your automatic transmission operates. Given that an automatic transmission is fundamentally a hydraulic system, the primary purpose of the fluid is to provide the hydraulic pressure necessary to shift gears up and down, as circumstances and driving conditions dictate. However, the fluid has a number of other very important functions, particularly in an era where transmissions are increasingly electronically controlled.
Anytime that you have clutches, gears, and other mechanical parts moving back and forth against each other, heat begins to build up. The proper transmission fluid for your vehicle also functions to absorb and dissipate this heat throughout the system. It is also important to note your transmission is designed to operate at a far lower temperature than the engine does. While a vehicle's engine is intended to operate between 200-225° F, the transmission is designed to operate in the 175-195° F range. When the transmission begins to overheat, transmission fluid begins to degrade, and internal damage quickly follows.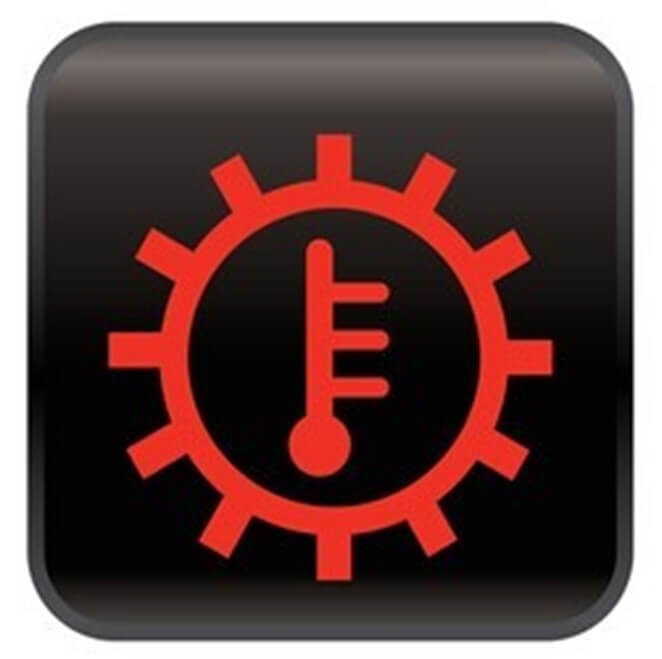 Additionally, an automatic transmission contains several "soft" or wearable parts like clutches, seals, and gaskets that are conditioned by the transmission fluid. Without the liquid present for these parts to operate in, they dry up and start to disintegrate. The transmission fluid keeps these parts pliable, lubricated, and operating properly. Similarly, the transmission fluid lubricates the various steel parts inside of the unit and prevents rust from forming that causes these steel parts to break down over time.
It may now be more apparent that transmission fluid today is not the same simple hydraulic fluid of our grandparents' day. Advancements in material and fluid science have greatly transformed the complexity of today's transmission fluid specifications.
How often should you change fluid?
Even if you are a conscientious driver, knowing when to change your fluid can be very confusing. Depending on the make and model of your vehicle, the manufacturer might recommend service anywhere between 15,000 and 150,000 miles! Some manufacturers identify their product as a "lifetime fluid" – we do not agree with this approach as the manufacturers' recommendation may be based on their desire for drivers to buy a new vehicle every 150K miles. Where and how you are driving also plays a big part in determining how often to change the fluid. If you are driving in constant stop-and-go traffic, you will want to service your transmission more often. Likewise, if you are towing things or driving in the mountains a shorter service interval is recommended. Any time you are putting more stress on the transmission, more heat develops, and fluid will break down faster. Winter driving is particularly hard on automatic transmissions and driving in heavy snow can put a tremendous amount of wear on the transmission and require more frequent servicing. Also note, manufacturer recommendations apply to "normal" driving at sea level. Colorado, with its elevation and weather, would be considered "severe" and by most manufacturers' standards, require more frequent servicing to ensure the integrity of the vehicle.
The one thing to keep in mind is that you don't want to wait until you start having problems to get your transmission serviced! Once you start feeling the transmission slipping, shifting erratically, or having warning lights come on, you are past the point of doing a service. There is internal damage that has happened to the transmission, and it requires more than a service. While it is tempting to go get a service done in the hopes that it will fix these issues, in many cases, it will make the problems far worse.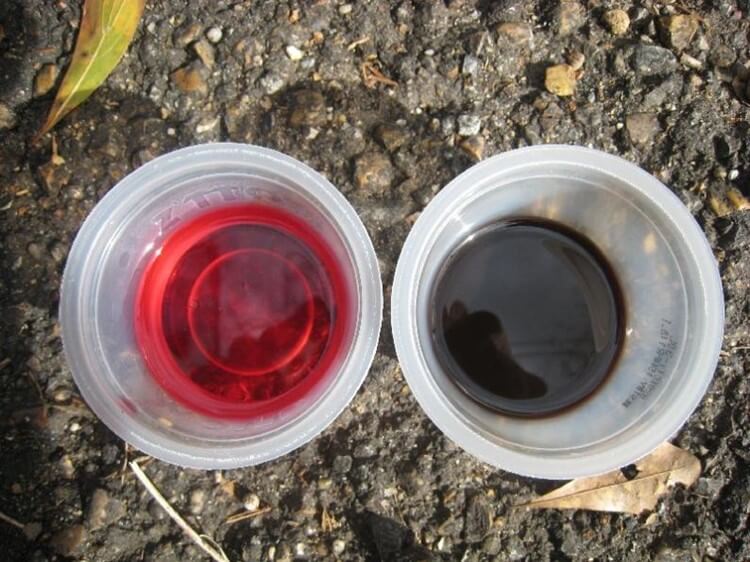 The best way to determine whether your automatic transmission is due for a service is to inspect the transmission fluid. The fluid should be bright (usually a cherry red), clear (without particles or debris suspended in the fluid), and not have any strong smell (a burnt smell indicates fluid degradation and possible internal damage). Some manufacturers have clear or blue transmission fluid – the coloring is less relevant as it is often a dye. Check your owner's manual to determine how to properly check the fluid level, i.e., with or without the engine running, in gear or in neutral, at operating temperature rather than when the vehicle is cold, etc. If you aren't comfortable doing this yourself (or your vehicle is one that doesn't have a dipstick to check), you will want to take it to a professional.
Types of fluid change and transmission service
While the various terms for transmission maintenance activities might seem confusing, it is worth knowing what these various services entail so you get what is best for your vehicle.  The first term you will often hear is a transmission "flush".  This involves hooking the transmission up to a device that will drain the old fluid and force new fluid throughout the entire system.  When a flush is completed, you will have almost 100% new transmission fluid.  For your first service on a vehicle with less than 75,000 miles or so, this can be a very good choice.  However, on transmissions with more mileage, this can cause quite a bit of internal damage to the transmission and is not recommended.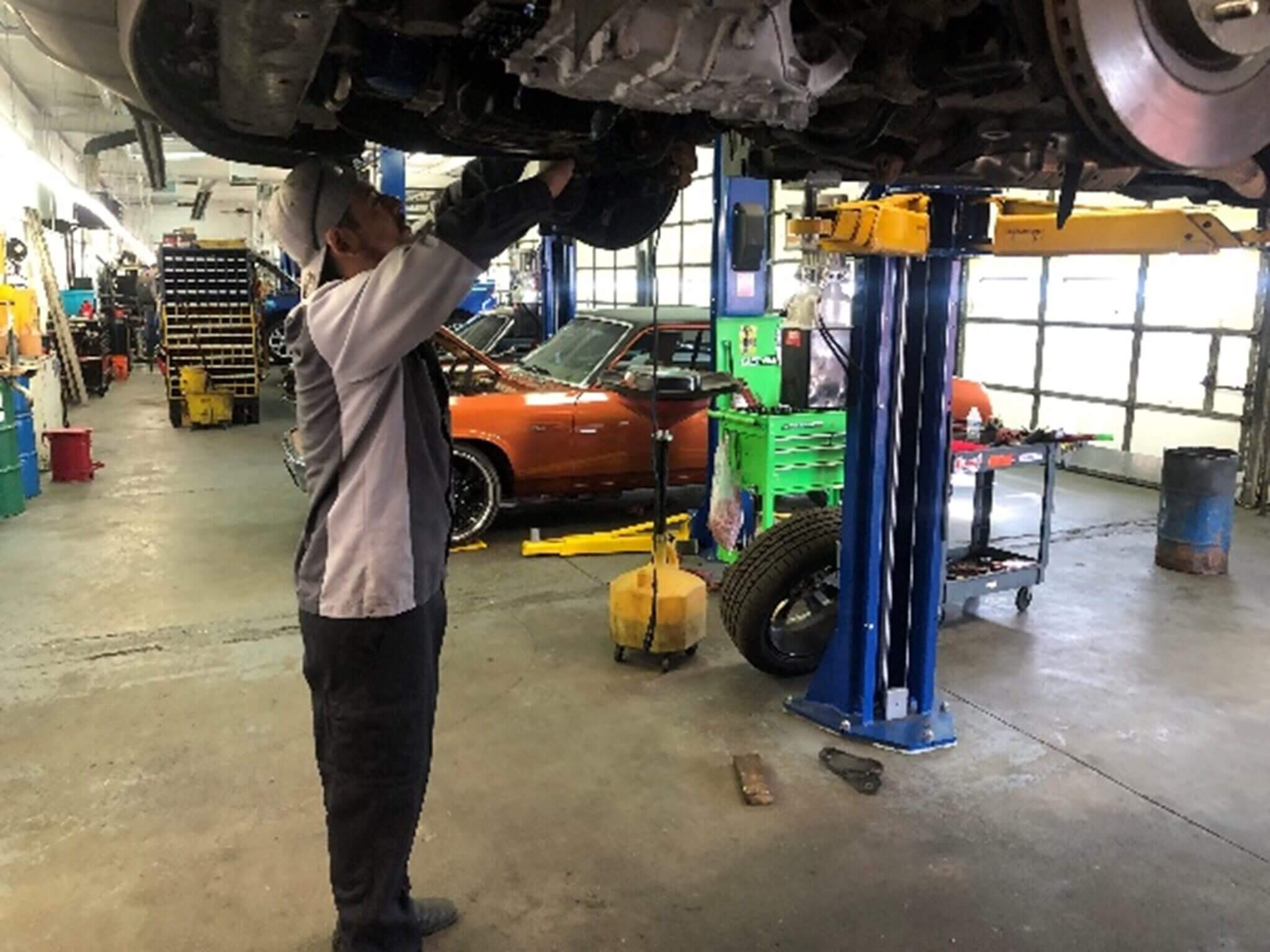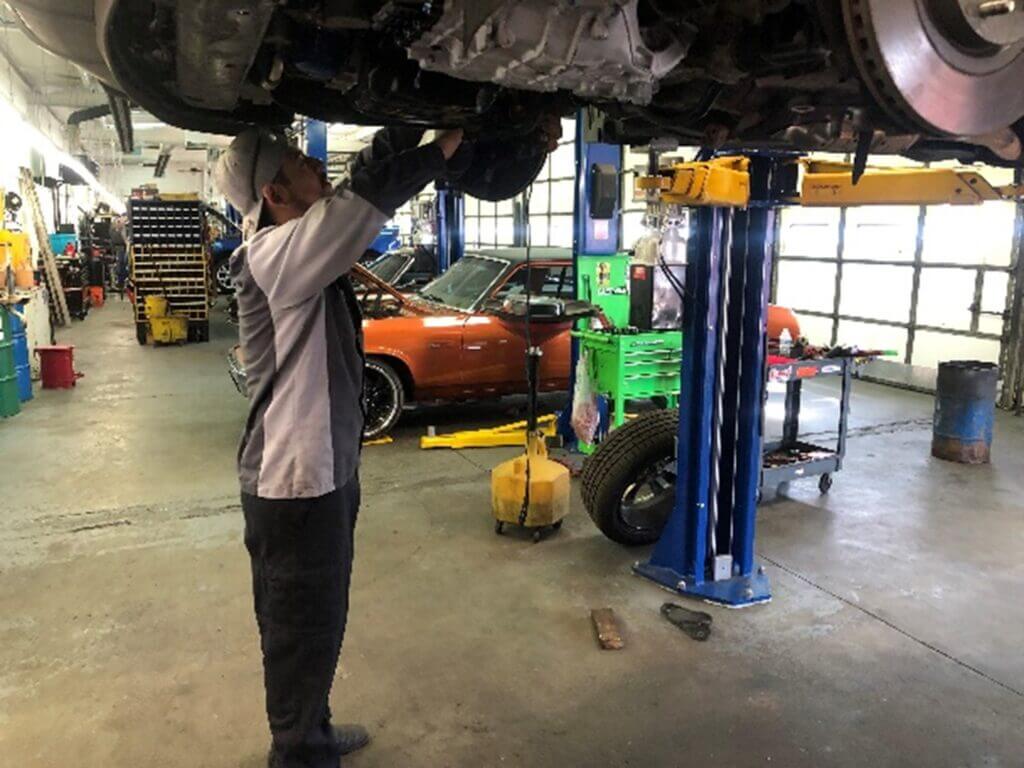 The next thing you will hear is a more traditional transmission service. This involves draining the transmission fluid, dropping the pan, replacing the transmission filter, putting a new gasket on the pan, reinstalling it, and filling the system back up with new transmission fluid. In this type of service, you are replacing most but not all of the fluid since the fluid inside of the torque converter often does not drain out. While not 100% new, the fluid is in much better shape and there is far less stress placed on the internal components of the transmission.
Some newer vehicles do not have a filter or a pan, which requires a "drain and fill." Just like it sounds, in this case, the drain plug is removed, the fluid is drained, the plug is put back in, and the system is filled back up. Vehicles like this usually do not have a dipstick to check the fluid level or condition, so a qualified mechanic is going to have to inspect the fluid and perform the service when required.
As previously mentioned, there has been an increase in the number of newer vehicles that have so-called "lifetime transmission fluid". While that sounds great, it is important to know that manufacturers consider a vehicle's "lifetime" to be somewhere between 100-125,000 miles. This might have been true 30 or 40 years ago; many vehicles today will continue running 200,000 miles or more. If you have a vehicle with "lifetime transmission fluid", we recommend that you a minimum get it inspected every 50,000 miles.
Where to go for transmission service
Most vehicle owners these days will have their basic vehicle fluid maintenance done at a "quick lube" type of establishment. These are the various franchised places you will see where you drive up, they pull your vehicle in, do the service while you wait, and get you back on the road. Often these places will recommend transmission services as an add-on, but we discourage transmission services without a proper inspection by a specialist. These quick lube facilities lack the specialized equipment necessary to properly perform transmission service and usually sell cheaper quality filters, gaskets, etc. Additionally, the service technicians are usually young and inexperienced (and are paid accordingly) and don't have the specialized knowledge to properly service an automatic transmission or identify problems during the service.
A step up would be a traditional general automotive repair facility. These shops usually have multiple bays, actual lifts to put the vehicles in the air rather than "pits" where they are under the vehicle, and often employ ASE-certified mechanics. The quality of your service will likely be much better, and the parts used of much higher quality, depending on the standard of that shop. However, keep in mind that most general auto repair facilities refer most automatic transmission repairs to a specialized transmission shop. Transmission repair is a very specialized field, and the average mechanic does not have the tools or knowledge necessary to work on them. If they are going to send their transmission work elsewhere, are they the best choice for you to have a transmission service done? Why not go directly to the same shops your general mechanic sends work out to?
The best choice for transmission service is to go to a specialized transmission service and repair facility. Since they are experts in the function and upkeep of automatic transmissions, they have the right tools and up-to-date training to ensure that you are getting the right type of service for your vehicle. Additionally, they know what to look for while performing your service to spot potential trouble before it becomes serious, saving you hundreds if not thousands of dollars in potential repairs.
If you need service on your automatic transmission or have any other transmission-related issue, contact Advanced Transmission Center at either of our locations and we'd be happy to help! Unlike dealerships or many independent repair shops, we are your local transmission shops trained to fix issues related to a vehicle's drivetrain. You can reach out to either location that is most convenient for you.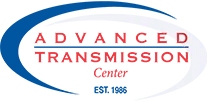 Advanced Transmission Center is a Colorado-owned and operated auto repair shop with locations in Denver / Lakewood and Westminster. ATC specializes in driveline issues such as automatic transmission repair, four wheel drive repair, clutch replacement, differentials, manual transmissions and CVT. As Colorado's first AAA approved shop our goal is to provide accurate, timely service with exceptional customer satisfaction. All of our technicians are certified in the latest makes and models and we are one of the few transmission repair shops with a nationwide warranty.