Transmission Flush Services in Denver, CO
Geared for customer satisfaction
Our BG Power Flush and Fluid Exchange System is the best equipment on the market, it will change 100% of your transmission fluid without contaminating the new fluid. This is an important maintenance activity that can prolong the life of your transmission.
Transmission Flush or Service?
Customers should be aware there is a difference between a transmission service and a transmission flush. Both are maintenance activities, but there could be major adverse consequences if the wrong option is selected. A transmission service includes dropping the transmission pan and replacing a portion of the fluid that drains out. In addition, the filter is replaced or serviced, and new fluid is added to the old fluid that was not drained from the transmission. A substantial amount of fluid is left behind in a "drain and fill" service because the torque converter in an automatic transmission holds much of the old transmission fluid which does not naturally drain out with a pan drop. This is not a bad option in certain situations particularly vehicles with high mileage. Transmission fluid has highly detergent characteristics that can aggressively impact an older transmission and therefore a less dramatic "drain and fill" transmission service may be the right cautious approach.
A transmission flush is ideal for vehicles showing no signs of transmission issues and the mileage is relatively low. This option is often sought by customers that prioritize a strict maintenance schedule on their vehicle and aim to prolong the life of their transmission. Be sure you know which service you are requesting when you stop by one of our locations!
Our Transmission Power Flush Process
Here is how our transmission flush process works: We remove both the transmission pan and the filter, as it is located within the pan. Then we attach Our BG Power Flush and Fluid Exchange System and start the vehicle. Old fluid is pumped out while also pumping clean fluid in. This ensures that no dirty fluid i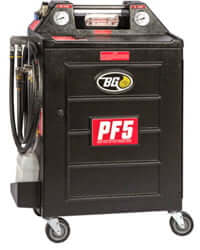 s left behind, hence the "flush". The fluid from the torque converter is included as part of this flush as it cycles while the vehicle is running.
Most flush machines push fluid through the cooler lines, leaving the transmission pan in place, never replacing the filter. Without removing the filter, you're never guaranteed a 100% fluid transfer from old to new as residual fluid hides in the filter. Our Power Flush procedure prevents contamination of the new fluid by any debris left in the system from the old fluid. That debris could cause gear stalling or grinding. Our BG Power Flush and Fluid Exchange System also allows our technicians to introduce additives that could be valuable to your transmission based on the make and model. Several types of fluid are compatible with our Power Flush equipment including regular transmission fluid, synthetic transmission fluid, or CVT fluid so we're able to handle even the most unique vehicle needs.
Prior to any transmission flush or service, the technicians at Advanced Transmission Center perform our free TrueTest Inspection to best determine which maintenance option is the best match for your vehicle.
How often should you change your fluid?
Some manufacturers say you never need to change your transmission fluid. In our opinion, there is not a "lifetime" fluid. It really depends on the type of fluid used in the transmission and the specific make and model of your vehicle. One thing is for sure, the lifetime of your transmission will be longer if you change your fluid periodically. Colorado driving conditions are not easy on a vehicle, so do it a huge favor and keep it maintained!
Check your owner's manual for maintenance intervals or call us, and we will look it up for you. Better yet, schedule a free TrueTest Inspection and we will be glad to help you determine the best transmission maintenance options for your vehicle.
You can read more about ways to prolong the life of your transmission on our Transmission Blog.
Contact Us today for an appointment!