Certified Transmission Specialists
You can trust our certified transmission specialists at both our repair facilities in Lakewood and Arvada/Wheat Ridge.  Our technicians have nearly 100 years of combined transmission rebuilding experience.
True Transmission Experts
The sheer number of transmissions our team rebuilds for customers every year gives them the hands-on expertise needed to be the best in the business!  Each year local customers across the metro bring us their vehicles.  We have customers from Denver, Arvada, Lakewood, Aurora, Centennial, Thornton, Westminster, Littleton, Wheat Ridge, Northglenn, Golden, Broomfield, Evergreen, Highlands Ranch and other smaller municipalities.  We even have customers in Ft Collins, Boulder, Colorado Springs and the Rockies who would rather have us work on their vehicle versus taking their vehicle to a closer shop.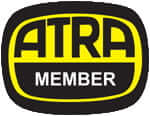 We are going on three decades as members of the Automatic Transmission Rebuilders Association (ATRA), the largest and most well-respect transmission rebuilders association in the world.  Our membership comes with access to a library of transmission knowledge and an ability to collaborate with other transmission shops to provide our customers with the highest quality repair and warranty.
Top-Quality Transmission Repair
We deliver the best quality repairs because we are exclusively focused on the transmission and vehicle drive-train.  Many Denver transmission repair shops offer overall or total car care – these shops don't live and breathe transmissions as we do.  This reality impacts a repair facility's ability to accurately diagnose and quickly repair your vehicle while providing the customer a fair price.  Do you really want a brake or fuel injection technician misdiagnosing your transmission and potentially costing you thousands of dollars?  When you allow us to service your vehicle, you will have a certified transmission specialist diagnosing and repairing your transmission, every time. We are transmission guys. That is all we do!
Drive Train Experts
We are experts on all drive-train components including transmissions, torque converters, transfer cases axles, and differentials.  Our Denver-area technicians constantly study and train to stay updated on the important trends in our industry.  We attend webinars, seminars and engage with other industry experts through our memberships, affiliations and technical subscriptions. This ensures that we are always at the forefront of cutting-edge technology and new repair trends.
In-House Rebuilds
Our In-House Rebuild Department has a century of combined experience, building thousands of transmissions – there is no job too big for our team of rebuilding specialists. But, even if we can rebuild a transmission, it is not always a customer's best option. We recognize many customers have time and cost sensitivities, therefore, we have partnered with a national rebuilder of transmissions, Certified Transmission.


Unlike other national brands that aim to repair transmissions as cheaply as possible (i.e. – low quality), Certified Transmission shares with Advanced Transmission Center principles of quality repairs using the best tools & parts available.  In most instances, our local experts can rebuild a transmission more reliably, quickly, and economically than any 3rd party rebuilder.  However, in some instances, we can save our customers time or money by turning to our partners at Certified Transmission.  We maintain the same high standard of transmission installation regardless of who builds the unit.  That's why we can confidently warranty our work.
As the number of transmissions in vehicles has exponentially increased over the last 20 years, our approach to transmission repair has also evolved.  We strive to be the best team of specialists in Colorado and partner with affiliates who can help provide our customers the best products and certified transmission services available.
We do this for one reason: We are "GEARED FOR CUSTOMER SATISFACTION!"
Call now to schedule your appointment!
Arvada/Wheat Ridge – Northwest Metro Denver: 303-647-5257
Lakewood – Southwest Metro Denver: 303-816-3856