There are many manufacturers of clutches for vehicles equipped with a manual transmission, but we at Advanced Transmission Center recommend sticking with Original Equipment Manufacturer (OEM) or high-quality aftermarket brands. There are two reasons to pick quality over price when doing a clutch replacement.
First, the transmission needs to be fully removed in order to replace the clutch and that can be very labor intensive. High-quality transmission specialists are harder to find, making their expertise expensive. Trying to buy a cheap clutch will likely cause premature wear and have you paying for all that labor to remove the transmission again. Shortening the time between your clutch replacements makes overall maintenance of the vehicle more expensive. Second, it is extremely dangerous to drive a vehicle with a clutch in poor condition. It can be difficult to engage the gears, which leaves a driver exposed to less control while operating their vehicle.
Below we provide a brief summary of the brands Advanced Transmission Center uses most frequently. Keep in mind, there are numerous "high-performance" aftermarket brands on the market for Stage 2 and Stage 3 needs, and that is not the objective of using an OEM-specified clutch. This list identifies the most common, or OEM-equivalent, Stage 1 clutch manufacturers.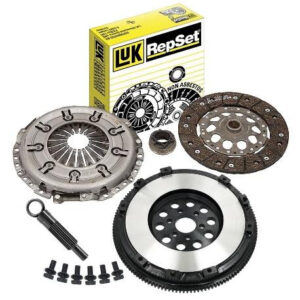 The Best Value Clutch: Luk
The best value between performance and price is clutch products from Luk. Without sacrificing quality, Luk clutches have strong performance and durability in normal applications. Moreover, it provides many of the largest vehicle manufacturers in the world OEM clutches. Some of those companies include GMC/Chevrolet, Ford, Toyota, and Dodge/Chrysler. This shows the product line extends between domestic and foreign makers. Also, the company is known to be innovative with its extensive portfolio of technology. The Luk clutch is hard to beat but there are other strong competitors.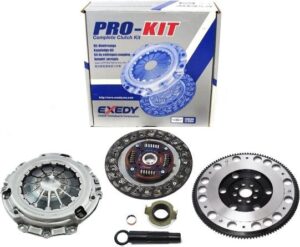 Best Clutch for Japanese Vehicles: Exedy
Few companies can boast of having a better reputation when it comes to quality. Exedy makes great products, and its line extends into suspension components. The brand is widely regarded for its accessibility across domestic and international vehicles; however, its specialty is Japanese vehicles. The clutches tend to have a long life with normal use, though, they do often have a higher price point than most Stage 1 clutch options. On the other hand, they are highly accessible due to the size of the company. Note, Daikin is a highly regarded clutch brand and is a line of Exedy.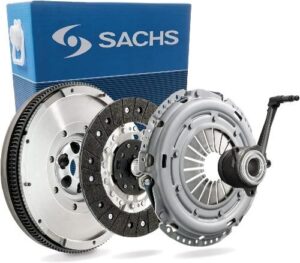 Best Clutch for German Vehicles: Sachs
If the characteristics of Exedy are what you are looking for in a clutch repair, the Sachs line is very similar but with a focus on German vehicles. Although Exedy and Sachs are different companies, both represent higher quality and price point than average-performing clutch manufacturers. Sachs is a German subsidiary based in Schweinfurt and owned by the parts conglomerate ZF Friedrichshafen AG. German vehicles especially do best with OEM solutions and Sachs is an excellent option.
ACDelco
When thinking of old American parts brands, few carry such weight as ACDelco. It is viewed as OEM, if not OEM-equivalent. The truth is ACDelco clutches are made by Luk. This unveils a truth throughout automotive parts manufacturing: identical parts are often manufactured yet placed into boxes with different brands on the exterior. Often this comes with a different price tag as well. The ACDelco brand traditionally stands for quality, though it comes with the price tag of an OEM or dealer markup. You can be confident you are receiving a quality product with ACDelco, but you can often find a similar quality product for a few bucks cheaper.
Ensuring you are working with a transmission and drivetrain specialist is important when getting a clutch repair or replacement. Although the clutch is critical in shifting between gears, there are numerous other parts involved including the pedal, master cylinder, slave cylinder, pressure plate, and flywheel. There is nothing wrong with asking a shop what brands of clutches they typically use although it's impossible to guarantee what brand they might use in reality given pricing and availability. Nevertheless, if they can mention a name or two on our list, you can likely trust they do prioritize quality parts.
If you need a clutch replacement or manual transmission repair, the Advanced Transmission Center team is here to help. Unlike parts stores, quick lube, or general automotive shops, we are transmission specialists trained to inspect, diagnose, and fix issues related to a vehicle's automatic and manual transmissions. You can reach out to either location that is most convenient for you.
Advanced Transmission Center – Lakewood

1194 S. Pierce St

Lakewood, CO 80232

PHONE: 303-816-3856

Advanced Transmission Center – Westminster

3686 W. 72nd Ave

Westminster, CO 80030

PHONE: 303-647-5257
Please give us a call or send us a message ASAP. We look forward to serving your vehicle's drivetrain and transmission needs. For over 35 years, our goal remains to be "Geared for Customer Satisfaction!"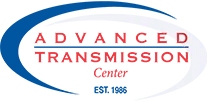 Advanced Transmission Center is a Colorado-owned and operated auto repair shop with locations in Denver / Lakewood and Westminster. ATC specializes in driveline issues such as automatic transmission repair, four wheel drive repair, clutch replacement, differentials, manual transmissions and CVT. As Colorado's first AAA approved shop our goal is to provide accurate, timely service with exceptional customer satisfaction. All of our technicians are certified in the latest makes and models and we are one of the few transmission repair shops with a nationwide warranty.