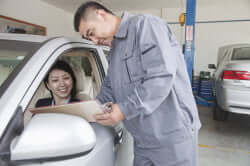 When faced with a broken-down car, you want to confidently select the automotive expert that will take care of your Arvada transmission repair in a timely, fair and cost-effective way. Unfortunately, most of us can't tell a transmission modulator valve from a transmission control module, so knowing we're making the right choice when it comes to transmission repairs sometimes feels like a roll of the dice. It doesn't have to be this way. Check out our top four suggestions when selecting a repair shop:
1.      Recommendations from Family and Friends
It is likely that someone in your circle of friends and family may have experience with good auto repair shops, and will also be eager to tell you of others you should stay away from. If nothing else, their recommendations can help focus your search when you head online to delve further into the merits of repair centers in your area.
2.      Online Reviews
Armed with your peer recommendations, take your search online. Angie's List, the Better Business Bureau, Google and Yelp are terrific places to see what others have to say about the service they received at repair shops. Beware! It's easier for people to spout negativity when they are shielded behind a computer screen, so utilize online consumer recommendations as one important component of your overall data collection, but not your only criteria for making a decision.
3.      Certifications
All of the technicians at Advanced Transmission Center are certified transmission specialists, so you can rest easy that they'll provide you with the absolute best transmission service because it's verified they have the specific transmission knowledge to do so. Similarly, the National Institute for Automotive Service Excellence, or ASE, certifies automotive technicians and shops. If you see that the shop and mechanic you've selected are certified by ASE, they've passed the requirements of this independent nonprofit organization for being competent providers of quality automotive service.
4.       Inspection Process
Ask questions about the process any potential repair center will be using to diagnose your car's issue and quote a price. Be wary of any provider willing to quote a price over the phone before inspecting your vehicle. Also, before you agree to have major parts of your engine replaced, first be sure that they cannot be repaired.
How to Use This Information
We understand how vulnerable it can feel to make a decision about a service provider for something you know little about. If you follow our four steps: ask friends and family, search online, check for certifications and understand the inspection process, you can confidently make your decision. When you have a transmission issue, we look forward to hearing from you at Advanced Transmission Center. Our certified transmission experts, who are backed up with several online recommendations, will be happy to help. Please call (303) 351-5088
303-647-5257 for our Wheat Ridge shop or (720) 463-5056
303-816-3856 for our Lakewood location or contact us online to discuss how we can help.
How do you find your automotive service providers?