Fast Transmission Services
At Advanced Transmission Center, we aim to quickly diagnose and repair your transmission or drivetrain issues while maintaining quality and affordability. We have prioritized these principles for four decades and we are best positioned today to offer our customers the highest level of service.
Denver is a large metroplex and most transmission parts are readily available within 24 hours. Our excellent business reputation combined with long-standing vendor relationships allows us to receive multiple deliveries from most of our vendors daily.
How long does it take to rebuild a transmission?
We can turn around a full transmission rebuild in as little as 2 days!
Clutch replacements and other minor repairs are easily completed same-day. A transmission or differential service usually only requires a couple of hours.
We're able to achieve fast service, quality, and affordability for many reasons:
• We have multiple locations serving the whole Denver-metro area
• We Employ the Best Tools & Equipment in our Trade
• We Employ Exceptional Transmission Diagnostic Procedures
• Our Technicians Experience Allow for In-house Transmission Rebuilds
• Our Technicians Specialize in Transmission Repair
• Our Partnership with Certified Transmission
Multiple Transmission Repair Facilities
Advanced Transmission Center has two transmission repair shops in Denver metro. Our north location is in Westminster off 72nd Avenue and our south location is in Lakewood off of 6th Avenue. Customers across Denver metro can easily reach one of our two facilities. Both shops uphold the highest standards of quality workmanship, ethics and customer service. Multiple shops also mean we can share knowledge, tools and experienced staff. We collaborate on challenging repairs to ensure we can stand behind our work with an industry leading warranty. Between our two shops, we will find a way to schedule you for an appointment to diagnose and repair your transmission or drivetrain issues faster than the competition. It also helps in sharing overhead and fixed costs across two facilities. Even with multiple shops, we are far from a corporate chain. We are a locally-owned family business that will treat you like family every time.
Tools & Equipment
A transmission is among the most complicated component in cars and trucks. To provide quick service or repair, we must continually invest in the best equipment and tooling on the market. There are thousands of pieces of equipment at our facilities, but we will highlight three across different services:
Power Flush
We use the BG Power Flush and Fluid Exchange System for our Power Flush Service – it is a market leader in quality performance and quickness.
Transmission Rebuild
We connect the G-TEC heated cooler-line flusher to each vehicle prior to installing a newly rebuilt transmission. It completely removes debris and burnt fluid from a vehicle's cooler lines left over from a damaged transmission. Skipping this step causes contaminated fluid to enter electronic components in your newly rebuilt transmission. Sadly, this is a common occurrence across the industry. A quality rebuild and installation is important to keep your vehicle running well and out of repair shops.
Clutch Replacement
We maintain a flywheel grinder to minimize the time it takes to complete a clutch replacement. Most shops outsource this step, but we prefer to control both the timing and quality of an entire clutch replacement job.
TrueTest Inspection and Leading Diagnostics
A successful transmission repair starts with an accurate diagnosis. With decades of experience, we established our TrueTest Inspection to identify the actual issues faced by your vehicle. These procedures will help avoid potential misdiagnosis and unneeded repairs. A failure to correctly diagnosis a vehicle issue also causes excessive delays. Our inspection includes the following steps:
1. Computer Diagnostic Scan
2. Fluid Level Test
3. Fluid Condition Test
4. Road Test
5. Multi-Point Lift Test
6. Transmission Pan Examination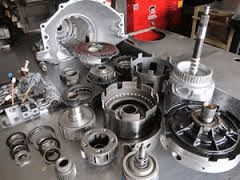 The Best In-House Transmission Rebuild Department in Colorado
Across our two repair facilities, we maintain three full-time transmission rebuilders with nearly 100 years of combined rebuilding and transmission experience. Transmission repair is complicated, so we encourage our rebuilders and technicians to collaborate. Working as a team ensures the highest quality repair is achieved for our customers. If you need a transmission repair, why not go with a team of specialists?
Partnerships with General Automotive Repair Shops
We are transmission and drivetrain specialists. We do not do general or total car care.
This allows us to build relationships and collaborate with the leading general automotive repair facilities across Denver, Arvada, Lakewood, Aurora, Centennial, Thornton, Westminster, Littleton, Wheat Ridge, Northglenn, Golden, Broomfield, Evergreen, Highlands Ranch and other smaller municipalities. These relationships allow us to more thoroughly and quickly diagnosis your vehicle.
If we conclude your car or truck issue is not transmission-related, we will make sure you are referred to a reputable and honest repair facility that we trust.

Advanced Transmission Center works with Certified Transmission, a national transmission remanufacturer, for unique situations where their products could either save customers money or shorten the time it takes to complete a repair. For instance, if the parts we need to rebuild a transmission are back ordered multiple weeks, we might call on our friends at Certified Transmission to supply us a unit that could arrive at either of our facilities the next day. Our priority is getting our customer vehicles back on the road quickly without compromising quality.
We refuse to work with most national remanufacturers that often do patch-work rebuilds with cheap parts. Trying to find a cheap transmission repair will be a costly repair down the road. We believe our principles of quality workmanship and customer service are shared by Certified Transmission.
Don't take our word for it. We encourage all our potential customers to read testimonials from our prior customers.
Delaying a potentially minor repair can turn your issue into a major repair – don't delay!
Schedule your free diagnosis today!
Westminster – Northwest Metro Denver: 303-647-5257
Lakewood – Southwest Metro Denver: 303-816-3856
You can also send us a message to set up an appointment.