Because there is nothing more valuable than an accurate transmission diagnosis.
With a Free TrueTestTM Inspection from an Advanced Transmission Center, you can be confident recommended repairs are actually needed. Our team stays updated on the latest trends in transmission design, operations, and known failures, because we recognize A SUCCESSFUL TRANSMISSION REPAIR STARTS WITH AN ACCURATE DIAGNOSIS. In many cases, a TrueTestTM Transmission Inspection transmission check will uncover a minor repair that could save customers thousands of dollars.
What Does Our Free Transmission Diagnostic Entail?
Our free TrueTestTM Transmission Inspection incorporates numerous procedures including (i) a computer diagnostic scan, (ii) a fluid examination, (iii) a road test, and (iv) a multi-point lift evaluation. Each of these steps helps identify whether the symptoms present are caused by an internal transmission failure requiring a transmission rebuild OR if a minor repair or general automotive issue is to blame.
Our TRANSMISSION SPECIALISTS perform numerous hands-on tests and visual inspections during these procedures to guarantee we fully understand the root cause of a problem before we provide our recommendations. In many cases, an accurate transmission repair estimate cannot be reached until further evaluation is conducted, including the removal, disassembly, and inspection of the transmission itself. It should always be a red flag to customers if a repair shop provides pricing over the phone for a transmission repair without actually inspecting the vehicle.
Southwest Denver shop location: 1194 South Pierce, Lakewood 80232 | 303-816-3856
Northwest Denver shop location: 3686 W. 72nd Ave, Westminster 80033 | 303-647-5257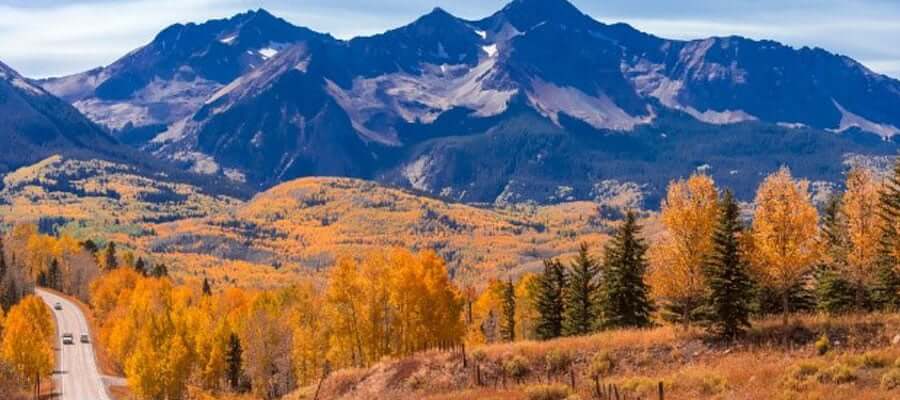 Our rigorous transmission diagnostic procedures are industry-leading and have earned Advanced Transmission Center numerous awards across 5 decades! Our disciplined approach helps us provide high-quality repairs, because we aim to be "Geared for Customer Satisfaction" for all our Denver metro and Colorado customers. We take pride in being your local transmission shop! Scroll down to learn more details about each step of our TrueTestTM Transmission Inspection.
For vehicles that do not move or may be unsafe to drive, we offer local FREE TOWING with completed major repairs.
TrueTestTM Transmission Inspection Components
1. Computer Scan
Today's transmissions are very different from the basic hydraulic models of the past. Onboard electronic control units use vehicle performance data to calculate and control how and when to change gears to optimize shift quality, performance, and fuel economy.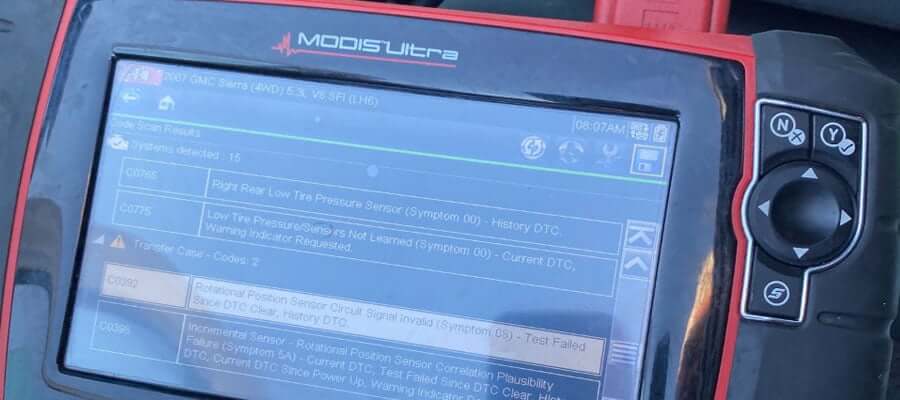 We are able to look at this data stream in order to spot problems within the electronic system as well as pinpoint internal transmission failures. We do this by:
Using the right equipment unique for each vehicle's make and model
Scanning all modules (electronic control unit, transmission control module, powertrain control module)
Monitoring any sensors or solenoids setting trouble codes
Documenting and investigating all trouble codes via a global database shared with other transmission specialists
The TrueTestTM Difference
Avoid a costly transmission misdiagnosis by completing a thorough Computer Diagnostic Scan. In some cases, an engine or transmission control module (ECM/TCM), which can be separate and external to the transmission, can be faulty. This can lead to erratic shifting and premature wear of a transmission. Investing hard-earned money for a rebuilt transmission, in this case, would be a bad investment. The rebuilt transmission will fail again because the underlying cause of the problem was an ECM/TCM.
A faulty ECM is a common failure for Toyota Rav4 models from 2001-2003 after 80,000 miles. Certain Jeep Grand Cherokee models from the mid-2000s have a similar problem with the TCM.
---
2. Fluid Level and Condition Examination
Transmission fluid is the lifeblood of a transmission. Not only does the system require the correct type and amount of fluid, but the fluid provides some indication of the internal condition and health of the transmission. Evaluating the presence of metal, clutch material, or aluminum can point to internal wear and mechanic failure.



Smelling the fluid can provide evidence of overheating if there is a burnt odor. A standard fluid level and condition examination may not be sufficient, and a pan inspection may be recommended to identify the level of fluid of contamination. Ultimately, transmission fluid plays an important role in diagnosing the condition of a transmission. The increased complexity of fluid and material science within a transmission makes it more important than ever to trust a transmission specialist in the evaluation of a vehicle's fluid level and condition. Fluid examination steps include:
Check the fluid for correct level, not low or over full
Assess the condition of the fluid including color, odor, or contamination by metal or even water
The TrueTestTM Difference
Avoid a costly misdiagnosis of your transmission by completing a Fluid Level and Condition Examination. Our team has experienced numerous vehicles with low mileage possessing worrisome transmission codes from the Computer Diagnostic Scan as well as erratic shifting during the Road Test. Most mechanics might condemn the transmission and recommend an expensive transmission rebuild or replacement. In such a circumstance, our team will evaluate the fluid and, if "cherry" (a term used to describe transmission fluid in good condition due to its color), we might identify electrical component failure rather than a mechanic failure.
Chrysler and Dodge Transmission Examples
In some 62TE transmissions found in Chrysler Town & Country or Dodge Grand Caravan vans, the solenoid block often prematurely fails. Rather than rebuilding the entire transmission, we can pull off the transmission pan and replace the solenoid block with a new OEM part. This repair would save a customer valuable time and a tremendous amount of money!
---
3. Road Test
In order to fully understand your transmission issues, we need to get your vehicle out on the road. Our technicians are able to troubleshoot issues such as slipping, hard shifting, lockup, and flare shifting. If it is a manual transmission, we are observing where the clutch is disengaging or potentially slipping. On an automatic transmission, we evaluate the shift points to determine if they are early or late.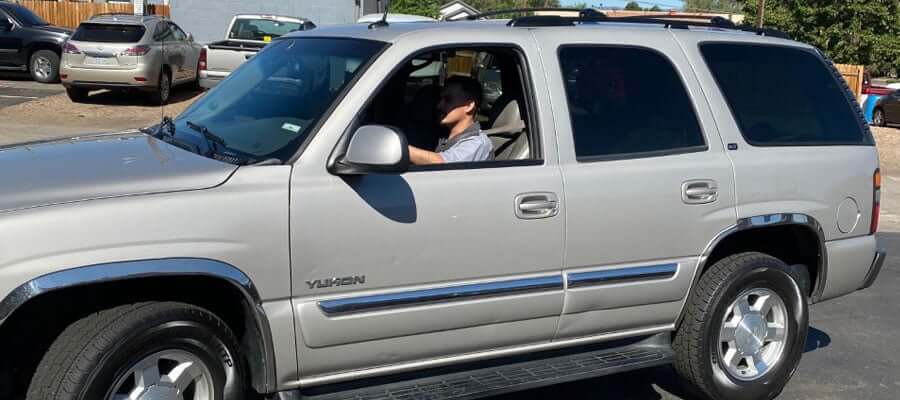 Our road test will be performed in a wide variety of conditions such as stop-and-go traffic, low speed, and highway speed in order to give us the best possible understanding of your transmission's performance.
We road test to accurately identify your car's driving characteristics
As applicable, we evaluate the performance of the four-wheel drive system and other components relating to the operations of the vehicle drivetrain
The TrueTestTM Difference
Avoid a costly misdiagnosis of your transmission by allowing one of our transmission and drivetrain experts to complete a Road Test on your vehicle. There is a long list of vehicle problems that somehow turn into a misdiagnosis of failed transmission.
Common Misdiagnosed Transmission Problems
One example is hard shifting or engagement. This is a classic symptom that presents itself when wearable components within a transmission, notably clutch plates, are at the end of their natural life. However, a driver might also experience what feels like harsh engagement when an engine or transmission mount has failed. Major components of the vehicle are secured to the frame of the vehicle with mounts. As a transmission upshifts and the RPMs drop from potentially 4,000 rotations per minute to 1,800, the physical engine will move in relation to the vehicle. This movement can create a symptom similar to hard shifting.
Don't let a $40 failed mount cost you a $4,000 transmission rebuild you didn't need! Another common issue is the failure to upshift and loss of power. Of course, these symptoms can point to a transmission problem. It could also be a plugged catalytic converter that inhibits engine performance due to an inability to release gases at an appropriate rate. In short, a Road Test when possible is an important step in diagnosing a transmission issue. Don't trust anyone willing to provide you a repair quote before requesting a drivability exam.
---
4. Multi-Point Lift Test
Finally, we are going to put your car, truck, SUV, or van on a lift and get it up in the air so that we can visually inspect your vehicle's drivetrain components as thoroughly as possible. Often, this requires more than one technician and consultation with numerous team members occurs before a diagnosis is reached. Raising a vehicle on a lift takes time and can disrupt normal shop operations, but it is an essential step in understanding what repairs are needed to get a customer's vehicle safely back on the road. Our Multi-Point Lift Test includes the following:
Inspect for transmission leaks at the pump or tail-housing
Inspect transmission pan gasket for condition and leaks
Inspect for transmission leaks at the radiator or across the cooler lines
Inspect all electronic connections on the transmission
Inspect CV axles
Inspect universal joints and drive shafts
Inspect engine and transmission mounts
Listen for whining, grinding, or clicking noises to isolate the source
Check transfer case fluid level and condition
Check differential fluid level and condition



Raising a vehicle on a lift is also necessary in situations where a transmission pan drop and inspection is warranted. When possible, our team members will accompany customers to visually inspect the pan and explain our findings. We deeply believe in customer education and try our best to give you all options available and explain how we got to those recommendations.
The TrueTestTM Difference
Avoid a costly transmission repair by having one of our technicians complete a Multi-Point Lift Test as part of our free transmission diagnostic. It is obvious that running a transmission low on fluid can lead to erratic operations at best and premature failure at worst. As mileage increases on a vehicle, seals lose their integrity and leaks become present.
Ford Escape Transmission
For example, Ford Escape models from 2008-2011 have a common axle seal failure that on its own can be fixed with a repair for a few hundred bucks. Unresolved, this failure can lead to a low fluid level condition in the transmission and ultimately failure of the component. The rebuild can be 10x more expensive! The challenge is that an axle seal is rarely visible unless the vehicle is on a lift and inspected by a trained technician.
Another example is a wheel bearing that begins to whine. It sounds very similar to a bearing failure within a transmission, and distinguishing between those noises is very difficult unless a vehicle is in the air and a technician can use instruments to identify the source.
---
Don't Gamble – Trust the TrueTestTM Inspection!
Transmission repair is rarely expected and always inconvenient. We try to make the process as painless as possible by providing an accurate transmission diagnosis, economic repair options, and friendly customer service. That is why we rely on our TrueTestTM Inspection as the first recommended step with every customer. This process gives you piece of mind that you are working with the leader in Denver transmission repair.
Schedule a FREE INSPECTION & DIAGNOSIS today by calling one of our Denver metro shops!
Westminster: 303-647-5257
Lakewood: 303-816-3856
You can also request an appointment on our contact us page!