From long commutes, traveling, errands, and adventures, your vehicle can become your second home at times. The last thing you want to deal with is a car issue that can't be solved with a quick fuel fill up or oil change. Automatic transmission problems are complicated, vast, and require specialized training to diagnose and solve. They can arise quickly, leave you frustrated, or worse, stranded on the side of the road. Advanced Transmission Center solves all of these common issues and more with ease, efficiency, and accuracy!
Low or Dirty Fluid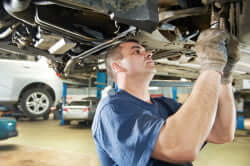 Just like your oil requires regular changing, your transmission fluid also requires maintenance in order to keep your vehicle in proper working condition. Complete vehicle failure can occur when your transmission fluid is not kept at an adequate level and cleanliness. Low or dirty fluid can prevent the required hydraulic pressure from powering the movements within the transmission. It can cause your transmission to overheat, and gears can slip, surge, or become worn down.
Needle Roller Bearings
There are many tiny components that keep your transmission running smoothly. Needle bearings are one of these small, but key pieces, that can cause damage to your transmission. These lightweight roller bearings help prevent grinding in the torque converter but if the bearings become worn, they may produce a grinding or brushing noise when your car is moving. Needle rollers help your transmission gears move efficiently but can become worn down prematurely if not taken proper care of.
Shifting Delays
If your car shows signs of hesitation when shifting gears or just refuses to slide into gear, there is a clear problem to address. Shifting delays usually point to a transmission concern and require immediate attention to remedy the problem. Your vehicle should always shift smoothly into gear. While you cannot always rely on your vehicle, you can count on Advanced Transmission to get you back on the road with little to no stress.
Shaky Shifting
Most car owners know how their vehicle runs and notice immediately when it begins to show hesitation, shaking, or grinding. It doesn't take a technician to identify a problem but you will need a qualified technician to accurately pinpoint the cause of the issues and solve it accurately. As usual, when problems are ignored, they become worse and more dangerous to the health of your vehicle. The best course of action is to take your car to a reputable, automatic transmission specialist as soon as you see signs of trouble.
Don't let automatic transmission problems get the best of you! Advanced Transmission Center provides high-quality transmission repair and services in the Denver, Lakewood, Wheat Ridge, Avada, Littleton and surrounding areas for both automatic and manual transmissions! We service vehicles of many makes and models and offer a wide variety of repair services. Our technicians are trained to handle a vast range of issues and we look forward to solving your automatic transmission problem today. Contact us today!