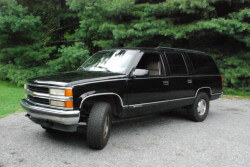 At Advanced Transmission Center, we operate our business based on one simple, core philosophy: treat people right. As basic as this seems, it doesn't always happen these days. Showing customers the respect they deserve has helped us build a base of loyal partners and clientele.
As the only Lakewood transmission shop to offer free towing, free True Test™ inspections, fast service, and support to local charities, our customers come back again and again. Some of them even write us great customer testimonials on Google, Yelp and other review websites. Here's what Rebecca R. had to say about her experience with us this summer, written on our Google+ page:
"We were trying to leave for the 4th of July weekend on Thursday afternoon and on Wednesday afternoon the transfer case on my Suburban got stuck in 4 low. To make matters worse, in an attempt to correct it myself, I removed a fuse and created a new problem with my fuse box. I called George at Advanced in a panic, and he assured me that he could have the vehicle ready for the road in 24 hours. Not only did he get my Suburban repaired in time for my trip the next day, but he didn't even charge me for fixing the fuse box! I was so pleased with everything about Advanced Transmission. They are honest, professional, fast and affordable, everything you could ask for in a mechanic. I WILL BE BACK!"
Thanks for the great review, Rebecca! We were thrilled to help you out before your big trip, and we are always more than happy to help anyone out in a pinch.
We hope you read our customer testimonials and decide to try us out. We will endeavor to make you just as satisfied as these online reviewers.
How To Use This Information
There is every reason for you to believe what you read and come to Advanced Transmission Center. With our free towing, free inspections, fast service, and comprehensive warranties, you can be assured to get the repairs you need when you need them.
Call our Northwest Denver center at (303) 351-5088303-647-5257, our Southwest Denver center at (720) 463-5056303-816-3856, or set up an appointment online.
Done business with us before? Then write a review!