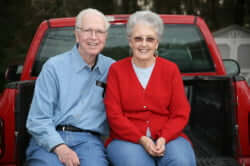 Car trouble never comes at the right time. We rely on our vehicles more than we realize, so any breakdowns or accidents can have huge impacts on our lives. Knowing that your car is ready for the long haul is critical, especially before a big trip. Advanced Transmission center is the place to go for speedy service in a pinch. Recently, a customer had serious trouble with his truck's transmission right as he was about to drive across the country pulling a heavy trailer behind him! Luckily, he found Advanced Transmission Center at just the right moment. We were thrilled with the feedback below and our role in helping the Ohms family enjoy their vacation:
"George was able to take our vehicle in right away for a complete rebuild. We were getting ready to leave on a 1400-mile road trip towing a 7000-pound trailer.  Our trip was delayed only 3 days. The trip went smoothly with no transmission worries." 
Thanks for your great review and your business! Our transmission repair Denver experts at Advanced Transmission Center love their jobs because they get to help people like the Ohms family. For terrific transmission service in a pinch, call Advanced Transmission Center!
How To Use This Information
If you have a serious engine issue, take it to the people who take engines seriously at Advanced Transmission Center. We're the best transmission repair Denver has, so come on in. Whether it's an transmission rebuild, four-wheel drive repair, or any other transmission problem, don't hesitate to contact one of our centers.
Call our Northwest Denver center at (303) 351-5088303-647-5257, our Southwest Denver center at (720) 463-5056303-816-3856, or set up an appointment online.

Have you had an experience at Advanced Transmission Center? Write a review about it!