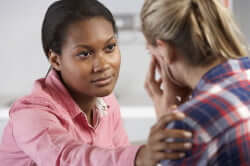 While every member of a community is valuable in his or her own way, there are some who go the extra mile to help the people around them. In Lakewood, there are many extraordinary people, and this month, our Lakewood transmission experts at Advanced Transmission Center would like to recognize one outstanding organization: the Second Wind Fund.
The Second Wind Fund is on the front lines of teen suicide prevention, a brave and crucial battle we fight in America. Suicide is the second-leading cause of death for youth between 10 and 24 years old, resulting in over 4600 deaths nationwide each year, according to the Centers for Disease Control and Prevention. Suicide attempts are rampant as well, with 157,000 youth hospitalized each year for self-inflicted injuries. And while a fatal suicide is obviously more tragic than an attempted one, they both weigh very heavily on families and communities, inflicting long-term pain.
Few groups have done more to prevent these tragedies in Colorado than the Second Wind Fund. Operating in the Denver Metro Area as well as Eagle, El Paso, Boulder, Teller, and Montezuma Counties, the Second Wind Fund reaches out to teens showing warning signs of suicide, urgently pairing them up with counselors, therapists, and other helpers in their own communities. If the teen lacks insurance, the Second Wind Fund covers all costs.
In 2002, four teens from a Jefferson County school committed suicide within a nine-month period, prompting an outpouring of grief and strengthening the community's resolve to step up prevention efforts. A few individuals organized a Walk/Run fundraiser for the affected families, and 66 people attended and donated; those few people created the Second Wind Fund, whose 12th Annual Second Wind Walk/Run event recently raised over $147,000! To date, over 3500 children and teens have been referred through the Second Wind Fund.
Our Lakewood transmission experts at Advanced Transmission Center salute the Second Wind Fund for their brave, persistent efforts! If you would like to make a referral or donate to the Second Wind Fund, please do so.
How To Use This Information
It just feels better doing business with people who really care. When you bring your manual or automatic transmission vehicle to our Lakewood transmission specialists, you will not only get quality service, but also support the efforts of great charities like the Second Wind Fund.
Call our Northwest Denver center at (303) 351-5088303-647-5257, our Southwest Denver center at (720) 463-5056303-816-3856, or set up an appointment online.

Do you support any Colorado charities?