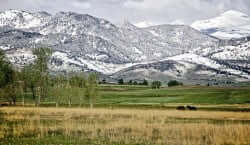 Some people assume that all of the Denver area's sites are downtown, but that couldn't be further from the truth. Every part of the Denver metro area has its highlights, and our hometown of Lakewood is no exception. Advanced Transmission Center, your Lakewood transmission repair shop, cares about our customers' experience, not just at our store, but also in our town. That's why we're recommending these great places to visit in Lakewood.  With 143,000 people, the City of Lakewood is Colorado's fifth-largest. It is part of Jefferson County in west Metro Denver; our location and open spaces give us great views of the Rockies to the immediate west. People have settled in Lakewood since the late 19th century, and since then the town has developed into a cultural and economic hub for west Denver.
Lakewood Heritage Center: Located in picturesque Belmar Park, the Heritage Center illustrates Lakewood's dynamic history with 10 historic structures and more than 30,000 artifacts. It also has a fairground and an amphitheatre.
Lakewood Cultural Center: It's all about the fine arts at the Lakewood Cultural Center: a theatre seating over 300 people, rotating visual art exhibits, art classes, gallery spaces, and other meeting areas. You're sure to learn something about local culture after a visit here.
Bear Creek Lake Park: Enjoy everything the Colorado outdoors offers at Bear Creek Lake Park. This is more than your average park: paved and dirt trails for walking, biking, and horseback riding; a stocked lake offers great fishing; picnic tables invite the perfect family outing; and more across this 2,600-acre expanse.
Hayden Park: A close second place in Lakewood park size is William Frederick Hayden Park, at 2,400 acres. This park is steeper and has more to offer for the mountaineer than Bear Creek Lake. Its 6,800-foot summit offers views of both the Denver metro area and the Rocky Mountains.
Fox Hollow Golf Course: Though the Lakewood Country Club also offers great golf, it's hard to beat Fox Hollow. It has three distinct nine-hole courses, all featuring unbelievable mountain views.
Belmar: Central Lakewood was once an outdated shopping mall; now, the Belmar commercial center has revitalized the area and turned Lakewood into a hip and bustling hub. Enjoy food, shopping, bowling, and much more at this great new part of town. For more shopping, also check out the Colorado Mills outlet mall.
How To Use This Information
Every year, Lakewood becomes a better place to do business, spend a night, or raise a family. And whether you live in Lakewood or just come here sometimes, you should take your car engine troubles to our Lakewood transmission repair experts at Advanced Transmission Center. We are the best business around for manual and automatic transmission repairs.
Call our Northwest Denver center at (303) 351-5088303-647-5257, our Southwest Denver center at (720) 463-5056303-816-3856 or contact us online.
What's your favorite thing to see or do in Lakewood, Colorado?