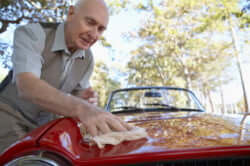 At Advanced Transmission Center, we can fix the transmission on virtually any car that comes our way. Since 1986, we have worked on a wide variety of cars and problems, solved the unsolvable, and built a level of expertise second to none. Now, our Lakewood transmission repair professionals are some of the most trusted mechanics in the area, with a loyal base of clients that is our greatest source of pride.
One happy customer had this to say about Advanced Transmission Center's treatment of his vintage vehicle:
"Great Service. They fixed my 1948 Ford truck without a lot of fuss. They did not push extra repairs, just did what was needed. They took great care of my baby!"
We don't view exceptional cars like this man's vintage Ford as problems, but as fun challenges. We have as much fun fixing your vintage automobile or truck as you have driving it. Whether your car dates from 1948 or 2014, if you have a transmission repair issue, bring it into one of our two Denver area locations. We will diagnose the issue, explain your repair options and costs, and guarantee you will drive away satisfied.
How To Use This Information
Trust these reviews. If you have a transmission repair issue, bring your car in to Advanced Transmission Center as soon as possible. Our Lakewood transmission repair professionals can service and repair your car's transmission, fix your car's damaged clutch, or provide any number of other services. You can call our Northwest Metro Denver Center at (303) 351-5088
303-647-5257 or our Southwest Metro Denver Center at (720) 463-5056
303-816-3856, or you can contact us online.
What's your favorite vintage car?