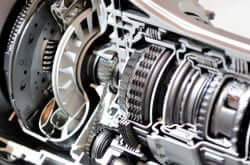 Volkswagen may have the hottest engine upgrade of the decade rolling out of their plants sometime soon, an innovation that could revolutionize auto efficiency. Their new 10-speed dual-clutch transmission has attracted the attention of the auto and auto repair industries—not least of all our Denver transmission repair experts at Advanced Transmission Center—and we will be keeping an eye on it to tell our customers how it develops.
For now, this is what we know: at last year's Vienna Motor Symposium, Volkswagen Group CEO Mark Winterkorn highlighted the development of a 10-speed gearbox, a big advancement from the industry standard 6-speed gearbox. This would be the first double-digit gearbox built for automobiles available for public purchase. This gearbox could be placed in many cars across the Volkswagen Group brands, including Audi, Bentley, Bugatti, Lamborghini, Porsche, SEAT, and Skoda.
Why are more gears a good thing? On an automatic transmission vehicle, more gears mean more efficient driving at a wider range of speeds and RPMs. In fact, VW Group predicts that the new 10-gear dual-clutch gearbox will increase its cars' engine efficiency and lower emissions by 15 to 20 percent by the year 2020. These new engines could be out on the road as soon as 2015!
How To Use This Information
If you want to learn more about these engines, or if you want to learn how to make your engine more energy efficient and reduce your carbon footprint, then stop by your Denver transmission repair depot, Advanced Transmission Center. We can give you a power flush or service and repairs on both manual and automatic transmissions to get your engine running to its full potential!
Call our Northwest Denver center at (303) 351-5088303-647-5257, our Southwest Denver center at (720) 463-5056303-816-3856 or you can contact us online.
What other upcoming automotive innovations you are excited about?