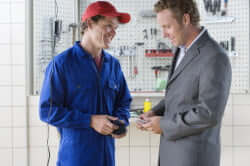 If you're like us, the fine print in many automotive warranties is boggling to not only the eyes, but also the mind. Is it covered or isn't it? Sometimes you cross your fingers and your toes and hope for the best. Unfortunately, many warranties slip special requirements into the fine print that can make your warranty null and void if you don't follow the guidelines. At Denver transmission repair center Advanced Transmission Center, we keep it simple.
Burnt by the Fine Print
Too often consumers are burnt by the fine print of warranties. One woman in Cleveland thought her $1,600 four-year warranty would cover her car repair, only to be denied the coverage because, according to the warranty company, she didn't follow the "repair guidelines." Now she's faced with paying a $2,100 bill, and feels misled by the company and questions her original investment in the warranty now that it's not helping her when she needs it most.
It's critical to read and understand the fine print of extended warranties in particular. This is where you'll learn how much and if the warranty will cover rentals, where you need to have repairs done to be compliant, deductibles, towing and more.
If you don't adhere to the parameters outlined in the fine print, you can be stuck with the bill.
You Won't Get Lost in the Fine Print With Us
Our warranties are geared for customer satisfaction; since we do our job right the first time, there is no need for us to hide behind confusing warranty terms and conditions. Many companies sell extended multi-year warranties that make consumers feel like they are covered for engine and transmission repairs only to find out when it's time to pay the bill, the repairs are not covered. In some cases, the warranty asks the repair shop to tear down the engine to diagnose the problem, on the customer's dime, before it will confirm if the repair would be covered. If the repair is denied because the details of the warranty weren't followed, the car owner is left paying the bill.  That's a costly gamble.
Automotive Transmission Center's Comprehensive Warranties
If you have a problem with any of the work we do on your vehicle, please bring your car or truck to us and we will repair it at no cost to you. This high level of service is what has earned us the trust of three generations of customers since 1986.
1-2-3 WarrantyTM
At Advanced Transmission Center, a 2-year, 24,000-mile warranty comes standard with any automatic transmission rebuild.
1-2-3 Extended WarrantyTM
A little extra protection is offered with our 3-year, 100,000-mile warranty.
How to Use This Information
You can count on Advanced Transmission Center to give you a straightforward warranty with no hidden agenda. It's part of our service with integrity promise. Let us know how we can help you by giving us a call at (303) 351-5088
303-647-5257 or contact us online.